2 June 04 ~ Thursday ~ Bev
I got out to the grocery store with Tim's dad this morning and it went ok,
but I think I must still be feeling the effects of the chemo today. When I
don't feel as good physically, it's harder to fight getting discouraged. In
answering a few e-mails I was reminded of how good I felt last week so I can
hope that I should get back to feeling better soon.
Hope you have a good trip to Pennsylvania, Elaine.
Love, Bev
---
31 May 04 ~ Memorial Day ~ Tim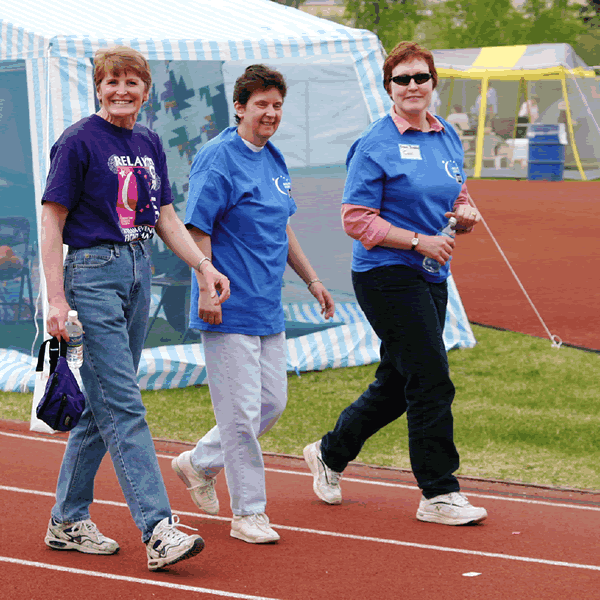 Hope you all are enjoying a relaxing Memorial Day. I am glad we have an
extra day of this week. Bev is feeling kind a nauseous today, but she has
been doing great most of the weekend. Yesterday she planted flowers in the
little flower bed in front of the house and in five planters. We will
probably head to the lakes for a picnic if she feels up to it this
afternoon.
I have attached a picture of Bev at Relay for Life. She is with Robert's
math teacher on the left and another woman. I don't know who she is.
Tim
---
27 May 04 ~ Thursday ~ Bev
It's been a good week and I've continued to feel stronger everyday. I've
gotten out every day – today to the UAF museum with Tim's dad, the library
yesterday, Walmart (just opened this month)... But I still get tired and
end up napping during the day. I'm able to concentrate enough to read more
which I'm enjoying. I got some yarn from Walmart to start a second baby
quilt for my grandchildren so both boys will have one. We've got the flower
bed ready to plant (thanks mostly to Tim's dad) and I'll get some plants
this weekend. But even with these things to do, the days get long and I'm
feeling a need for more sense of purpose. I guess as I get stronger, that
will come. But I am very thankful to be doing so well and don't take it for
granted. Thanks for your faithful prayers.
Love, Bev
---
26 May 04 ~ Wednesday ~ Bev
No real news here. It's been a quiet day and I slept some, but am still
feeling stronger and my appetite has been good. Jonathan and I took the
dogs for a walk to the musk ox farm.
Lillian and Bruce stopped by and dropped the chair off that goes with a
small desk we got from them. They leave next Tue. For Washington. She said
to say hello to you, Sharon. (They're the older couple in our small group
and he's retiring from his medical practice.)
Love, Bev
---
25 May 04 ~ Tuesday ~ Bev
It's been another pretty good day – started out by throwing up but managed to
keep breakfast down. I slept a lot this morning but figure that's ok if
that must be what I need. The home health nurse came at 2:30 and then
Jonathan and I went to Walmart where he bought a video game and I bought one
pot of flowers since they're unusual looking and I figured they might sell
out before Memorial Day when we can plant. They're a pink varigated flower
that smells kind of like a carnation I think it's some kind of dahlia but
it's a perrenial so should come back. I also bought some yarn to start
making a second baby quilt for my grandchildren. :)
We also drove out to Camp Li-Wa so Jonathan could drop off his paperwork and
confirm the time he needs to be off which will work out fine. They don't
start staff orientation until the 6th or 7th or June so he still has some
time to be a bum.
Thanks for passing on people's responses, Mom – that's nice they care enough
to be enthused about good news. Sharon, I haven't heard of the breast
cancer walk your friend is going on where they camp out. I wonder if it is
a local thing or national deal.
Love, Bev
---
23 May 04 ~ Sunday ~ Margaret
We talked to Bev this afternoon. She was outside in the area in front of their
house, weeding what is going to be the flower bed! But even bigger news
than that is that she went to church today!!!!! They also went for a ride this
afternoon, somewhere near the little town of North Pole, and stopped in town
so she could go into the Santa shop which she had seen from the outside when
she rode there with Beth and Kerry. Without the Hyperal, her sugar level was
still a little high, but well under 200 – 160 something, I think she said.
Robert left for camp this morning
–
they met at the church at 9, I believe she
said
–
and will use mountain bikes to go about half a mile to where someone
in the church has a cabin. Cooking will be done in the cabin, but the kids will
sleep outside in tents. Pray for their safety
–
occasionally there are bears in
the area!
Bev was concerned that her colostomy is still sluggish, but she is really
enjoying all the energy she has. She commented that it was nice to be able
to be doing some things, especially since next weekend will probably not be
so good after chemo.
---
22 May 04 ~ Saturday ~ Bev
Not much to add but I wanted to let you know the pictures you sent, Mom,
came yesterday. They have such great color – amazing what they can do with a
slide that old. I'm thinking what I should do is find some paper like you
used in the scrapbook, Elaine, and then mail it and the pictures to you so
you can write something and it will match the others.
My colostomy has still been slow so I appreciate your specific prayers for
that.

Love, Bev
---
22 May 04 ~ Saturday ~ Bev
It's been a good week overall and a great weekend. I didn't have chemo
yesterday but got 2 units of blood instead which has given me some energy.
We stopped the Hyperall (IV nutrition) and being free from the pump has made
me much more active.
Last night was my first outing (in over 3 months!) and it was to the Relay
for Life. We went to the survivors picnic and stayed for the opening
ceremonies. I made it around the track without any problem! By the time I
went to bed my lower back was sore but it's fine today. Tim was on a team
and walked with them from 1-2 am and by then it was raining lightly.
This morning Carrie picked me up and we went to a nursery and looked through
three greenhouses to try and get some ideas for flowers. The flowerbed area
is pretty big so we've decided to leave half of it covered with the fireweed
that is growing there already. They're a weed around here but they have a
really pretty pinkish purple flowering stem so they'll look fine for this
year.
This afternoon we drove to the musk ox farm for their birthday open house.
There were LOTS of people there – more than they expected. We got to go in
to the farm and get close to the caribou and musk oxen with their babies.
Robert leaves tomorrow morning for his adventure camp with the youth group.
They have to bike in 1/2 mile carrying all of their gear and I'm wondering
how he's going to manage! Jonathan and Gramps get home about 8:15 tonight
and we're anxious to hear about their train ride to Denali.
Thanks again for caring about our family.
Love, Bev
---
21 May 04 ~ Friday ~ Tim
Just wanted to give you all a quick update on Bev. She is at the oncologists
office. She was not able to get chemo today, because her blood counts were
all too low. She is getting blood as well as some shots to help boost her
counts. Her colostomy has started working, somewhat. Dr. Carroll did give us
a prescription that Bev is to take on Sunday which should help keep her
bowels from getting lazy after chemo (but she doesn't have chemo this week
so it shouldn't make much of a difference).
Good News! He did let her go off hyperal for the weekend and said we should
check in Monday as to how things went. We may end up going to every other
day for awhile. She also reduced her pain patch to 25 today from 50. I am
hopeful that it will work.
Carroll asked us to wait to remove the stints a few extra weeks so we will
have to wait until the first of July. I think he wants to see what the tumor
markers do.

Tonight is the Relay for Life and Bev and I are on a team. We will go the
survivors picnic and do the first lap, the survivors lap, together. The team
that we are on was started by a couple and is split by men and women. There
are about 75 men on he men's team and 125 women on the women's team. I
hoping the blood they give Bev today will help her feel well enough to do
the walk.
Hope all is well with you guys. The egg drop sounds fun creative.
Thanks for your continued prayers.
Tim
---
19 May 04 ~ Wednesday ~ Tim
We have had a long week this week and it is only Wednesday. Bev had a
somewhat difficult weekend because of the chemo. She was given that on
Friday, even though her blood counts were not quite what they needed to be.
In spite of not feeling very good, she wanted to go out for short drives on
Saturday and Sunday and so we were able to take to drive to the river and
then the mountains. Monday and Tuesday Bev was feeling much better and was
able to take a couple of walks on Tuesday. Her blood sugars have been
elevated and we have had to give her insulin, but she has responded well.
Since we are giving out details, she would be embarrassed if she knew I
talked about this, her colostomy has not worked for over 72 hours. The best
advice we have gotten so far is put heat on her stomach, We will meet with
the colostomy nurse sometime tomorrow or Friday, hopefully tomorrow.
We met with the urologist today. He said that there was no sign of infection
and probably some of the pain and burning has been because of the stints
put in during surgery. The left tube because there was a tumor wrapped
around her kidney and there was concern that the tumor would squeeze the
ureter shut. His recommendation today was that we take both stints out and
if the tumor starts to shut things off then reinsert the stint. So in two
weeks we will take the stints out. Bev was excited about that, now if she
can get her colostomy working.
My dad and Bev have been able to read some scripture every day together and
Bev and I read together in the evening. Dad has been going though Rick
Warren's "Purpose Driven Life" and is really enjoying what he is reading.
Our church went through the book last year, and Pastor Kerry taught on the
topics each week. It was an excellent series on getting in touch with the
Purpose of your life from God's perspective.
Jonathan and Robert are taking full advantage of the summer. They are
sleeping in till 11:30 and don't think that is late enough. They did see the
new Shrek movie today and said it was better than the first.
Gas has gotten expensive up here. We are paying $2.07 a gallon and in the
villages they are paying over $5 a gallon. (Another reason to buy a
4-wheeler).
And finally, Husker just about got himself arrested and sent to dog jail.
Apparently he had been outside and a lady had walked down the road in front
of the house with her dog. Husker trying to prove how tough he was ran out
to the street barking at the lady and her dog and scared them. The dog
catcher showed up about an hour after and asked if this was the house with a
brown lab who wore a bandana (the boys put one on him once in a while). I
asked if he meant like a gang member. The guy laughed and explained what
happened, so I apologized and said we would put Husker in the fenced area of
the yard when he went outside. That seemed to satisfy the guy. Husker
continues to maintain his reputation as a juvenile delinquent even here in
Alaska.
Hope you all are having a wonderful summer.
Thanks for your continued prayers.
Tim
---
18 May 04 ~ Tuesday ~ Kelly | Bev
Today is Bev's urologist appt isn't it? I don't know what time the appt is,
but we are of course wondering what he will have to say. I hope you are
feeling better today, Bev, after the rough weekend.
Love, Kelly
My appointment is actually tomorrow sometime in the afternoon. I have been
feeling better both Mon. and today. I even took two walks yesterday –
one to Milller Hill and the other to the musk ox farm! My blood sugar was
pretty high at lunch again (369) so Tim gave me some insulin. The kids are
just being lazy today enjoying being out of school. They're going for haircuts
this afternoon and you can imagine how excited they are about that.
Love, Bev
---
17 May 04 ~ Monday ~ Bev
Today has been a better day for me than the last two. I guess it's probably
the chemo that knocks me out. I did get out for a ride each afternoon, but
mostly I just slept. Tim came home at lunch today and checked my blood
sugar and it was 469 so he gave me some insulin and that has perked me up
this afternoon. I'm hoping that getting off of the Hyperall will solve the
blood sugar problem but I guess there's a possibility my pancreas has been
affected.
I had a visit from April but otherwise it's been a quiet day. Jonathan was
home before 10:30 and he's off to pick up Robert now at 2:30. I'm hoping
they'll find more to do this week than play on the computer and play video
games. Jonathan has to play for graduation tonight.
Tim's mom decided not to come because she has a very bad cold and she was
afraid she might make me sick. Tim got Becky's ticket set up to come June
12 – Sept. 4. I'm excited about having her come but am worried about her
getting bored – but everyone else who has come has managed so I'm sure
she will too.
Love, Bev
---
16 May 04 ~ Sunday ~ Tim
Thank you all for your emails and continued prayers. The chemo has been
tough on Bev this weekend. She has felt tired and nauseas. I did take her
out for a short drive yesterday, but that was all the energy she has had
this weekend. Her blood sugars have been stable, so we are thankful for
that and no fevers. She is feeling somewhat discouraged and confined. After
three months of having to lay around most of the time, the feeling of
confinement and not being strong enough to do something more with her is
frustrating to her. We hope to that she will continue to get stronger and
that she won't be tired like this for a long time.
We have enjoyed having my dad here and he has been very helpful. We have
been hoping to send him on the train to Denali for the weekend, but he is
resisting going. It is one of the most beautiful train rides you could go
on, plus the Denali Park is an amazing place, though the mountain usually
remains hidden behind its own clouds.
Jonathan and Robert have their last day of school tomorrow. They are really
excited ( They get haircuts on Tuesday, which they don't know about yet).
They went paint balling with the youth group after church today. They are
planning to sleep in all summer (not a chance!!). We haven't heard if
Jonathan has gotten a job for the summer at a Christian camp outside of
town. Hopefully this week we will hear something. Robert has church camp
next week and then two weeks of Symphony and Jazz camp in June. We are still
trying to decide what we will do with him in July.
Our niece Becky, Elaine and Steve's daughter, is going to spend the summer
with us helping out. She will arrive in the middle of June and stay until
September. She is a college junior and it will be fun to get to know her.
There are several women her age at the the church so we hope to get them
hooked up together so she has some people to do things with.
Please continue to pray for Bev's healing and that she will have some women
stop by on a regular basis to visit or maybe even hold Bible study here
with her.
Tim
---
12 May 04 ~ Wednesday ~ Bev
It's been another good week – good meaning still no fevers, not much
vomiting, some days with more strength so I've gotten out more for rides and
walked to the musk ox farm again. The weather was kind of dreary last week
and in the 40's but this week we're back to sunshine and 60's and it's
beautiful with all the leaves coming out.
I was able to get chemo again today even though my counts were pretty low.
The tumor markers were up just a little but the doctor said the testing can
fluctuate some (and I remember Dr. Conklin saying the same thing) so he
wasn't concerned about it. I'm still fighting what feels like a bladder
infection but since the culture didn't show anything but a yeast infection,
he doesn't want to put me on an antibiotic. He thinks it's the stint
causing irritation. The urologist is out of town this week, so I have an
appointment the 19th. And I almost forgot – he's going to let me drop the
Hyperall next week (the intravenous nutrition I'm on every day for 12 hours)
so I'm excited about that! My blood sugar was up around 350 while I was
there so I'm hoping I'll feel better getting off of it. Please pray I'll be
able to eat enough to not lose weight. We're also working on eliminating
the pain patch because I don't think I need it anymore but I have to come
off gradually.
Tim's dad is making the most of the slow lifestyle "babysitting" me by
finding all kinds of cleaning projects like washing windows (he even plans
on tackling the outside windows which at his age makes me nervous but he's
agile and strong), and he's been cooking meals except for two nights a week
when church people are bringing them. Tim's mom arrives on Mon. for 2
weeks, I think. Since they've been divorced for years it will be kind of
strange but they're both ok with it. (Tim 's not up for having her here by
herself.)
The kids' last day of school is Mon. so they're excited!
I enjoy hearing from you and appreciate your encouragement and prayers.
God has been good to me.
Love, Bev
---
12 May 04 ~ Wednesday ~ Bev
I called the doctor's office again today since the medication isn't helping
and the nurse said she would call back after talking with Dr. Carroll but I
didn't hear anything so called back about 4:00. The nurse said he is
referring me to the urologist to deal with it since it could bee irritation
from the stint, and since the culture didn't show infection antibiotics
won't do any good. I already have an appt. with Dr. Taylor on 5/19 so don't
know if I'll get in any sooner but I doubt it.
Karen from Hospice visited this morning for a while, and Yvette took me out
for a ride this afternoon to a lookout. The weather was pretty cloudy so we
didn't have a great view, but it was good to get out. I've felt pretty good
all day but had to lay down after breakfast to calm some nausea.
Tim's dad has been very industrious doing things like washing windows,
clothes, vacuuming, cooking dinner (we're getting meals delivered on Tue.
And Thur.) so I think he's doing ok with being here and the slow life that
comes with it. He got to go to one of Robert's concerts but otherwise hasn't
gotten to do anything entertaining yet. He does my medication and sometimes
does the hyperall routine and he's done fine with all of that. It's not the
same as having my own family here, but it's been good to have him here.
We've had some good conversations about spiritual things – he's been a
believer for several years now – still has lots of questions but has decided
to accept Christianity by faith.
Love, Bev
---
12 May 04 ~ Wednesday ~ Bev
Other than losing my breakfast and the medication not helping for what I
think must be a urinary tract infection, it's been a good day. I've had
more energy and have started the stitchery piece Robert gave me (it's all
straight lines, so it's a good one for me right now :), went for a walk to
the cemetary entrance, had a visit from Pastor Paul, and replied to a few
e-mails. Someone just brought dinner so better go.
Love, Bev
---
10 May 04 ~ Monday ~ Bev
[Bev, Do you have anything you want to say to the ladies that have been praying for you? Sharon]
Hi Sharon,
Other than thanking them for the time and effort they have put into praying for me,
I'm not sure. It's always encouraging and comforting when I hear that people are
praying and I'm humbled that people pray for me when they don't know me.
I believe that God is continually answering prayers and that's no doubt why I have
been protected from more discouragement than I have had. (You're right, I was
discouraged on Sun. – feeling confined, wanting to do more but not having the energy,
not knowing what's ahead...) I need prayer for not trying to continue this fight in my
own strength as I'm getting stronger.

You have a lot of good insight so I'll be interested to hear what you share and how it goes.
Love, Bev
---
10 May 04 ~ Monday ~ Bev
Sounds like everyone had a nice Mother's Day. Naturally we didn't focus on
food here, but the family gave me gifts – a new nightgown, a new short
sleeved sweater, a candle and a little stitchery design.
I'm having an ok day today. Still feel like I have a urinary tract
infection but they said today only a yeast infection showed up in the
culture. I'm already taking a pill for yeast infection but they're going to
add something else Tim will pick up tonight so hopefully that will help.
I'm very aware that I can't do this battle on my own and sometimes I try to.
As I feel somewhat better, I'm finding it harder to be patient and content.
Love, Bev
---
7 May 04 ~ Friday ~ Bev
Good news!
At my doctor's appointment today we learned that my tumor markers have gone
down some more so we're thankful for that news! And I was able to get chemo
today. The last two days I've slept an awful lot and I've had more trouble
with nausea so it is a rollercoaster ride. It's been good to read your
notes – thanks for all of your encouragement.
It's been rainy the last two days and I'm missing sitting out on the deck in
the 60-70 degree weather we've been having. The leaves have really started
to come out. It's great to be able to enjoy the coming of spring.
Bev
---
6 May 04 ~ Thursday ~ Tim
Sorry
Bev was not able to write today, but it was great that so many of you
responded to her note. Thank you very much. She will try to write some
individual notes when she has a better day. Today was a difficult day. Not
much energy and lots of nausea, also vomiting a couple off times. We are
also having a little more difficulty controlling the blood sugar last night
going too low and today going to high. If she ate as much candy in a day as
Robert or I do, then I guess it would make more sense.
Tomorrow she goes to the oncologist. We were not able to get a chemo
treatment last week because the white and red blood counts were too low. We
hope they are okay his week. She also does not look forward to getting sick
after the treatment. Please pray that she will be able to get treatment and
that she won't be to sick after treatment.
Robert left on a band concert tour today. He plays acoustic bass and
electric bass for the jazz band, orchestra and concert band. He really
enjoys it and I think taking after his mom has some talent. They went to
Anchorage and several small town along the way, to play in elementary
schools. There were 158 13 and 14 year olds that went on the trip. What kind
of images does that bring to mind????
Thank you again for all your kind notes and prayers. I will take time to
return individual letters this weekend.

Tim
---
5 May 04 ~ Wednesday ~ Bev
Hi everyone,
Today has been a good day and I've had more energy than yesterday so I
thought I would come downstairs and write a short note myself. Good timing
since Tim's dad is here now and is willing and able to do just about
anything other than computers! My energy and feeling good seems to come and
go but I keep moving in a positive direction so I'm very thankful for that.
I started on some medication for a bladder infection last night and that
seems to be helping. As I'm feeling better and sleeping less, I'm getting
more restless. I'm reading some but don't concentrate for real long – I
suppose that's the pain medication. I suppose getting bored is a good sign
of getting better.
We heard from Beth and Kerry after they got home and it was a long trip – I
think they had 7 hours in Seattle and 5 in Minneapolis! We sure enjoyed
having them here and appreciate all they did
I probably won't answer individual e-mails for some time, but I do
appreciate hearing from all of you. Tim has been printing out e-mails for
me when he gets home at night. Thank you all for your prayers.
Love,
Bev
---
4 May 04 ~ Tuesday ~ Tim
Bev's Tuesday I am afraid is about as exciting as this letter will be. Bev
was not feeling very well today, I think between her walk to the Musk Ox
farm yesterday and the search for ice cream last night she had used up all
her energy. So she has pretty much spent the day on the couch. She is
feeling restless to be doing something, but doesn't have the strength or
energy to do it. That's okay for now because Beth and Kerry cleaned the
house and did the wash yesterday.
It was sad to see them go. They were a tremendous help and encouragement as
have been Bev's family. Kerry's help with a frozen septic tank will always
be appreciated and remembered.
The dogs had no energy to do much today either apparently, it might be
because it was 70 here today which is a heat spell.
My dad arrived last night. He came from Lander Wyoming and will be here
about a month. It is good to have him here, we haven't seen him in about 4
years. He is 85 and is getting around very well. He loves dogs and so
Savannah and ~~~~~~ will be getting more attention than they are used to.
Thank you for your prayers.
Tim
---
3 May 04 ~ Monday ~ Beth
Hey, folks,
This will probably me my last mail as reporter for the Barnett Daily
Examiner.
Bev continues to feel good most of the time. Saturday night she lost her
supper and Sunday morning she experienced a little nausea and vomiting, but
has done well other than that.
Tim and Bev sent us on our way on Saturday so we went to Denali National
Park and even got a glimpse and a picture of Mt. McKinley. 2 out of 3 days
in the summer it is obscured from view by the clouds, so I decided to get
bold and asked the Lord for a chance to see it since I doubted that we'd
ever get the chance to be there again. And for about 60 seconds it showed
itself and I got to take 2 pictures. It was still 75 miles away, but, Hey,
I was thankful.
Yesterday Tim went to early church and Kerry and I took the boys to a later
service and then out to lunch so Tim and Bev could enjoy some time together.
Later in the afternoon Tim and Bev took a ride and Kerry and I went out to
see the Alaskan pipeline.
Last night Tim and Bev's small group met here at their home and we enjoyed
getting to know them. Our initiation into the group was to give our
testimonies. It is always amazing how you can meet other Christian brothers
and sisters and feel like you've known them for a long time. I love that
common bond that we share. The leader of the group is originally from
Mitchell, SD and his wife is from Britton, SD. SMALL WORLD!!! We asked
them what brought them to Alaska and the wife replied, "We got bored!" This
same couple just returned from a 2 year missionary stint with their 3
children to Africa. One of the members of the group is a medical doctor.
He shared last night that when talking with Bev's oncology doctor this week
her doctor remarked that Bev had the best attitude of any patient he has
ever had.
We are finding that people that live in Alaska are somewhat more adventuress
than perhaps us Midwestern folk. People are very friendly here and just the
few stories we've heard from people we have met makes us realize that they
are much more open to taking risks in their physical and well as spiritual
lives. People here dress for comfort and very little fashion consciousness.
We asked the boys if they had an "Old Navy", "Abercrombie and Fitch",
"Gap", etc. That was a negative as far as Fairbanks was concerned.
We have enjoyed our stay with the Barnett's so very much. It has been a
wonderful slowed down pace for us and we've had a chance to talk with one
another much more than we do at home. It will not be easy to leave in some
ways, and yet knowing that God loves them much more than we do and that He
is in control will make it easier. We may not know what the future holds,
but we know WHO holds the future.
Tim's dad will be coming in on the late flight tonight and we will be
returning to the Seattle on the return flight at 12:50 am (Tuesday morning).
Thank you to all who have written back email replies. It's been our
privilege to be here. We hope that we have been of some help and relief to
the family in some of the every day ordinary things. A special thank you to
Bev's sister, Sharon, for having everything so organized and detailed. I
would have felt completely overwhelmed if it had not been for your excellent
preparations.
Prayer requests:
This will be the first time since Bev's surgery that she will be WITHOUT a
female companion to help her.
Pray that the nausea along with all vomiting would disappear and that Bev
would be able to increase her intake of food so that she can get rid of her
pic line and hyperal. I told Bev I was going to pray for that to happen by
this Friday and she said she thought was a little too soon but it didn't
hurt to pray for that. I smiled at her and just told her I was stubborn,
too, and that I would. So those of you that want to "stubbornly" join me in
prayer for this request, please do so.
Pray for continued emotional, spiritual and physical strength for Tim, Bev
and the boys.
God Bless you all.
Beth for the Barnetts
P.S.
I just wanted to let you know that today, Monday, has been another good day
for Bev. We did our morning med routine, devotions and then she slept. She
had a visitor and then we ate lunch. She took a short nap and we went out
and sat on the patio. The sun was shining, 71 degrees out and then she had
a snack of 2 home made peanut butter cookies (I didn't mess up this time)
and a glass of milk. A few minutes later she asked me if I wanted to go for
a walk. We made it to the musk ox farm and back.
I'm so very thankful to the Lord for this wonderful time we have had with
Tim and Bev. Tim, of course, felt obligated to make sure Kerry had a good
time so he got off work early to take him to the golf course. Boys and
their toys!!
I'm praying that this exercise won't be too much for Bev, but will help
increase her appetite and strength. She has done well today with no
vomiting and no pain. She has optional meds she can take for both of those
problems and she has not needed to take any.
PTL.
Beth



click here for April 04
previous messages on request ~ sre@h2w4.com